How the price of gasoline is determined: infographic
Infographic showing how gasoline prices in Nova Scotia are affected by world events, the New York stock exchange and the Canada-US exchange rate.
This infographic shows how the price of gas is determined. Factors include:
world events, like wars, severe weather, and oil refinery shut downs
average daily price of refined gasoline on the New York stock exchange
Canada-US exchange rate
costs added to correct past differences between the expected and actual price of gas
transportation costs to move gas into and around Nova Scotia
wholesale and retail margins
federal and provincial taxes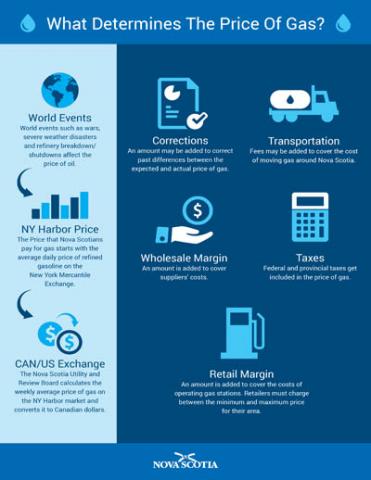 Price of Gas Infographic
1 page

PDF


File size:

387 kB
This document may not be fully accessible if you're using assistive technology.

---
Type:
Department: Service Nova Scotia